ArthriMED-Plus is a product manufactured in Quebec. It is a natural product made with essential oils presented as a spray. ArthriMED-Plus has been approved by Health Canada under NPN 80016235. This certification is a guarantee of quality and safety.
ArthriMED-Plus is a more concentrated product with more essential oils in its composition. The addition of camphor in the medicine of the formula makes a noticeable difference for the temporary relief of muscular aches, pains and joints. It is recommended as a local anesthetic to relieve back pain, lumbago, tension, body aches, stiff neck, inflammation, headache, pain in the sciatic nerve and arthritis and rheumatic pain. ArthriMED-Plus tones tired and sore muscles.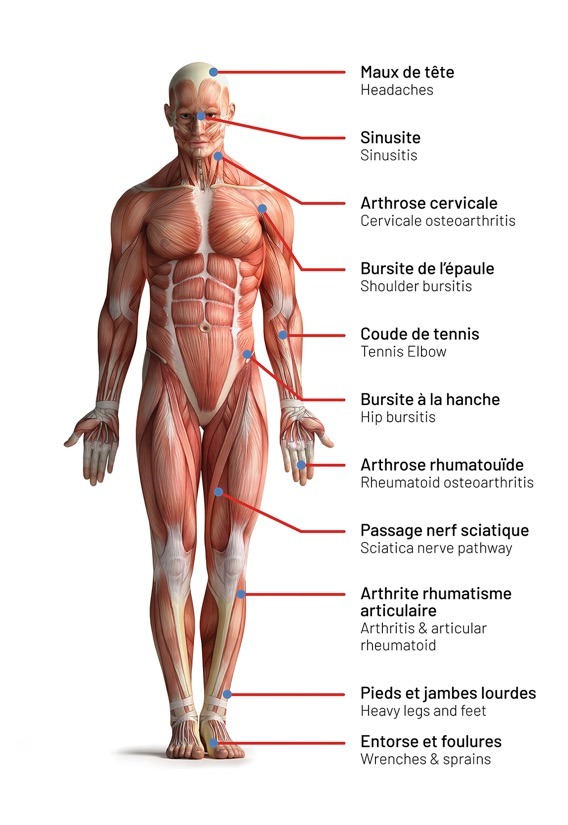 | Medicinal Ingredients | ArthriMED-Plus | Competitors |
| --- | --- | --- |
| Compare | 3,0% medicinal | Non medicinal |
| Eucalyptus globulus | 3.0 % | 0.7 % |
| Eugenia caryophyllata | 0.2 % | 0.2 % |
| Menthol | 2.5 % | 2.5 % |
ArthriMed-Plus is a product that contains more medicinal ingredients not only in quantity but also in concentration. Compared to another product you will not have the same active effects of the essential oils ingredients.
How to use:
For adults and children two years old and over. Spray ArthriMed-Plus on the affected area no more than 3 to 4 times daily for an instant analgesic effect. No friction.
Precautions:
If the condition worsens or if symptoms persist for more than 7 days, stop using the product and check with your health care advisor.
Caution:
For external use only. Avoid all contact with the eyes and mucous membranes. Do not bandage. Do not apply on wounds or damaged skin. Do not inhale. Do not take orally. Contact the Poison Center in case of accidental ingestion. KEEP OUT OF THE REACH OF CHILDREN. Store in a cool, dry place.